E-Pack
Paper & cardboard
Plastics
With the E-pack project, VIL is looking at the possibilities of reusable packaging in the B2C e-commerce market.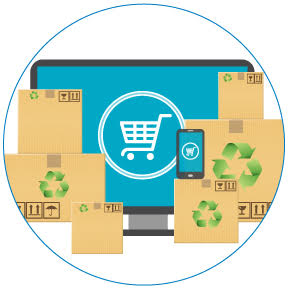 On the one hand, there is growing consumer annoyance about the enormous amount of cardboard shipping boxes and other packaging materials from their online purchases. On the other hand, there is a demand from logistics for more uniformity and robustness of packaging.
More uniformity should lead to simplification in handling, better stackability and more automatic packing and sorting options, and ultimately lower costs. A more robust packaging also provides better protection for the contents and less chance of damage during transport or logistics processes.
OBJECTIVE
With this project, VIL wants to stimulate the introduction of reusable packaging in the B2C e-commerce market to promote local sustainable online trade.
OPPORTUNITIES
The economic added value of this project lies in the field of standardization (including more efficient transport and automation of the packaging process), better meeting customer demand and the emergence of initiatives that can lead to a new and profitable business model (e.g. pooling reusable packaging) .